When you think of squad goals, you might think of the quirky cast of a popular TV show, a group of stylish friends who are always posing together for the 'gram, or even your own loyal friend group. We're here to give the phrase "squad goals" a whole new meaning. Let us introduce you to our newest and coolest best friends at Nature's Ultra—CBD products infused with essential oils!
But hold on a second! What is CBD, and who is Nature's Ultra? We're glad you asked. Before we introduce you to the CBD squad, let's go over some questions you might have.
Q: What is CBD?
CBD is short for cannabidiol, which is a plant-based compound found in hemp—the same plant from which we get hemp seed milk (a yummy alternative to cow's milk), fabric, and bird feed. Nature's Ultra makes their CBD products by dissolving CBD in fractionated coconut oil. When you use CBD products, your body's endocannabinoid system is affected.
A common misconception is that taking CBD will get you high. While CBD is used for many things, getting high isn't one of them! Pure CBD—known as CBD isolate—contains no THC, which is the mind-altering chemical found in marijuana. That means you can take CBD without having to worry about the effects of THC or binge eating all the snacks in your kitchen.
Q: Where does Nature's Ultra CBD come from?
Nature's Ultra gets their CBD from farms in Colorado that are dedicated to sustainable farming practices. They don't use any pesticides, and they rigorously test each product to ensure it's free of heavy metals. To avoid adding harsh chemicals to their products, Nature's Ultra uses food-grade carbon dioxide to extract CBD from hemp plants.
Q: Are Nature's Ultra and Young Living partners?
Yes! Nature's Ultra is a wholly owned partner, meaning we own the company, but it still operates independently. That means when you shop their products, Nature's Ultra—not Young Living—fulfills and ships your order. They're also the ones to turn to when you have questions about CBD products.
One of the factors that motivated the acquisition of Nature's Ultra is that we recognized they share many of the same values as we do. They even share our Seed to Seal® commitment to quality, which we've verified through visits to their farms. Nature's Ultra and Young Living are a match made in health! Like Peppermint and productivity or Frankincense and meditation, we are better together.
Q: What ingredients are in these products?
As you already know, we take special care to use only the highest-quality ingredients. Mirroring our own commitment, Nature's Ultra uses only the finest, purest CBD. Most of Nature's Ultra's CBD products contain CBD isolate, organic stevia leaf extract, MCT coconut oil, and Young Living essential oils. However, their CBD for pets doesn't have any essential oils or stevia.
Meet the Nature's Ultra CBD squad
Now that you have the facts, you're ready to find out why Nature's Ultra has the coolest squad around. Meet five of Nature's Ultra's CBD products and where they fit into your friend group.
YL tip: Check out the label instructions so you know how to use these products.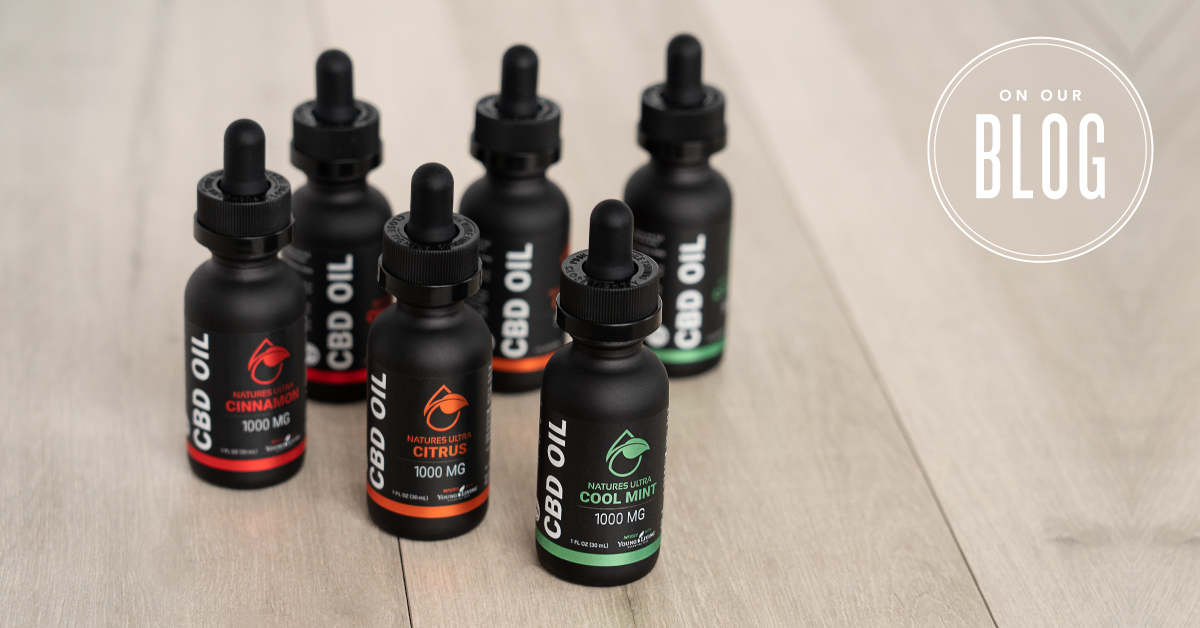 Why you want to be friends
Are you feeling tired and stressed after a long day? Calm CBD Roll-On is the friend you need to create a relaxed atmosphere with the help of soothing Lavender, grounding Frankincense, and many other delightfully aromatic essential oils.
When to call on them
One of the best characteristics of a wingmate is that they are there for you at all times, including:
During your at-home spa night—pair DIY manicures and soothing face masks with this relaxing product for ultimate self-care.
At night before climbing into your cozy bed.
On the go—the roll-on top makes this product easy to throw in your purse or carry-on when you're on the move.
2. Cinnamon CBD oil, aka the childhood bestie
Who they are
This familiar friend has a cozy, comforting scent that reminds you of being a kid. Cinnamon CBD oil contains MCT coconut oil, cannabidiol (CBD), Cinnamon Bark essential oil, and organic stevia leaf extract.
Why you want to be friends
Like any true BFF from childhood, Cinnamon CBD oil is warm, uplifting, and supportive. Each drop exudes cinnamon spice and everything nice for a boost when you need it the most.
When to call on them
When it comes to these scenarios, there's no one better to share them with than your childhood bestie, Cinnamon CBD oil:
Cold nights curled up with a book and mug of tea
Evenings spent around a fire pit or bonfire
Rainy days accompanied by a cozy sweater and your favorite moody playlist
Why you want to be friends
Every squad needs that one friend who motivates and energizes the others. In the Nature's Ultra squad, that friend is Citrus CBD oil.
When to call on them
Call up this bright bestie to help you power through the following challenges with a splash of energizing citrus oils:
The afternoon slump
Writer's block
Saturday chores
Why you want to be friends
Cool Mint CBD oil makes work feel like a breeze. With a minty-fresh scent and a cooling sensation, this oil both energizes and soothes.
When to call on them
If you find yourself in any of these scenarios, a dose of Cool Mint CBD oil is in order:
You've had too much screen time and are in desperate need of something more inspiring.
You have a lot on your plate and need motivation to tackle your to-do list.
You feel the afternoon slump coming on and need a boost.
5. CBD Muscle Rub, aka the workout buddy
Who they are
In need of a gym partner? CBD Muscle Rub is packed with menthol and an array of essential oils that work hard together to soothe your hardworking body. These oils include Camphor, Clove, Helichrysum, Lemon, Peppermint, Tea Tree, Wintergreen, Arnica, and more.
Why you want to be friends
If you're struggling to find the motivation to leave the couch and get moving, add CBD Muscle Rub to your gym bag. Your sore muscles will thank you!
When to call on them
Keep CBD Muscle Rub close at hand for any activity that's likely to leave you feeling sore, such as:
A tough workout in the gym
A grueling hike in the mountains
Yard games with the kids
Which CBD product will be the first to join your squad?
Tell us in the comments!
The post The ultimate guide to CBD products (plus why you need each one in your squad) appeared first on El Blog de Young Living.
via El Blog de Young Living http://bit.ly/2ZnQvkO