Ahh, spring. Not too hot, not too cold—all you need is a light jacket. It's time to pack away coats and boots, swap scarves for sunglasses, and break out the springiest essential oils. These bright scents are a great way to bring the fresh feeling of warmer weather into your home!
Best essential oils for spring:
Spring cleaning
Give your home a fresh start when you elevate your spring cleaning with essential oils! Window washing, carpet cleaning, sink scrubbing, and more all get a rejuvenating boost with these tips.
Hit the refresh button with Purification. Put a few drops on wool dryer balls to keep laundry smelling sunny, stash Purification-soaked cotton balls at the bottom of garbage cans, and diffuse in the car for a springy scent wherever you go.
Deep-clean your bathroom with Tea Tree. Make a scrub with one cup of baking soda, ¼ cup of liquid soap, and 10 drops of Tea Tree. Scrub-a-dub the bathtub, shower, sink, and toilet with a washcloth or scrub brush.
Add a fresh touch to carpets and rugs with Rosemary and Eucalyptus Globulus. Add 2 drops each to 1 cup baking soda, sprinkle over carpets, wait an hour or two, and vacuum up.
Give linens a spring-inspired spritz. In a spray bottle, mix 4 ounces distilled water, 2 ounces witch hazel, and up to 45 drops of essential oils. Shake and spray on bedding, curtains, or anywhere that needs a lift. We love combining Bergamot, Rosemary, Manuka, and Spearmint, but we'd love to see your creativity--tell us your favorite linen spray combo in the comments!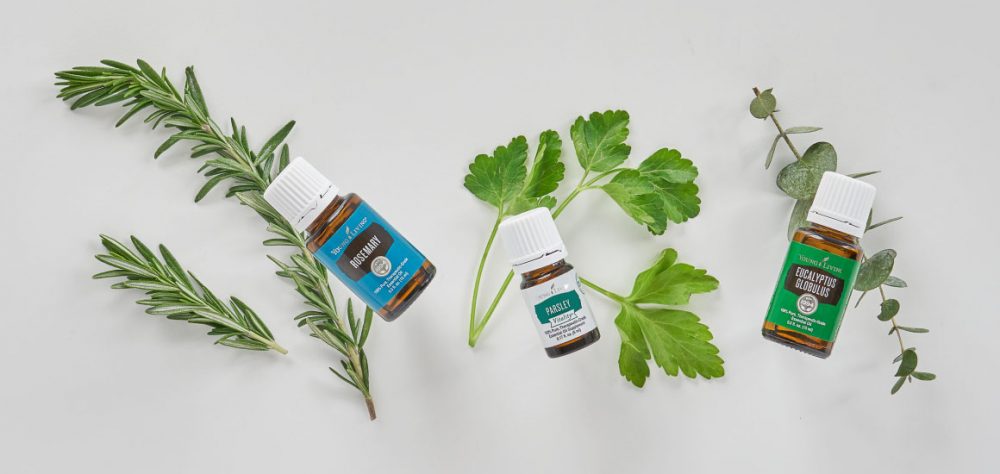 Spring into a new beauty routine
Wipe off the winter weather! Give your daily routine a spring clean, so you can face the day with a dewy glow.
Kick back with Roman Chamomile and Frankincense. Treat yourself to an inspiring soak by adding a few drops of these essential oils to your bath water.
Reveal glowing skin with Manuka. Apply a drop or two with your daily moisturizer.
Banish blemishes with Tea Tree. Apply a drop to a cotton ball and apply to spots and blemishes to take advantage of cleansing properties.
Slay the day with DIY body sprays. Use one of the provided recipes, or tweak to create a fragrance that is 100 percent you.
Elevate your veggies with Vitality oils. Steamed carrots, peas, or asparagus pair well with a single drop of Basil Vitality

or Thyme Vitality

.
Fire up the grill. Toss apricots or pineapple with a bit of a neutral vegetable oil and add a drop of Basil Vitality

, then turn up the heat. Serve over a bed of arugula.
Dip into it. Mix 1 drop of Parsley Vitality

with 2 tablespoons tahini. Add to roasted potatoes, dip artichokes into it, or use as a salad dressing. Seconds are a must!
The scents of spring
Fresh, new essential oil diffuser blends? Yes please! Refresh your home with these spring blends.
What are your favorite spring essential oils?
Share with us in the comments!
The post Spring has sprung! Refresh your home with these 13 essential oils appeared first on Young Living Blog.
via Young Living Blog https://bit.ly/3ac4FXW