Our summer wishes include sandy toes and salty kisses. But no matter the season, heading to the beach is our favorite, for shore! Even if we can't see the coastline for quite some time, we'll be lying out with neon towels, sipping cool beverages as ukulele music pumps through our speakers.
Whether you're stuck at home or minutes from that endless horizon on the ocean, you can activate beach mode with these four essential oils!
Cedarwood essential oil
Picture this: Crystal-clear waters, the finest sand around, and tangy drinks just a reach away. Cedarwood essential oil, with its sweet, balmy aroma, puts us in mind of dream vacations and even dreamier vistas. The scent embodiment of "sit back and relax," Cedarwood is a beachy no-brainer.
Beachy waves with Cedarwood
Get the wild mane of mermaids and mythical creatures with this DIY mermaid hair spray.
Score the silky tresses of hair models by adding Cedarwood to your conditioner to soak up its moisturizing properties.
Royal Hawaiian Sandalwood essential oil
Warm and rich, this oil has a bucket-list destination in its name: Royal Hawaiian Sandalwood

essential oil. Straight from the Kona Sandalwood Reforestation Project, Royal Hawaiian Sandalwood comes from dead and dying sandalwood trees, so it's as earth friendly as it is skin friendly.
Sun-kissed skin with Royal Hawaiian Sandalwood
Keep the glow long after those sunny days are gone with a few drops in your daily facial moisturizer.
Add to an unscented lotion for a fresh and breezy fragrance that'll take you from sunrise to sunset.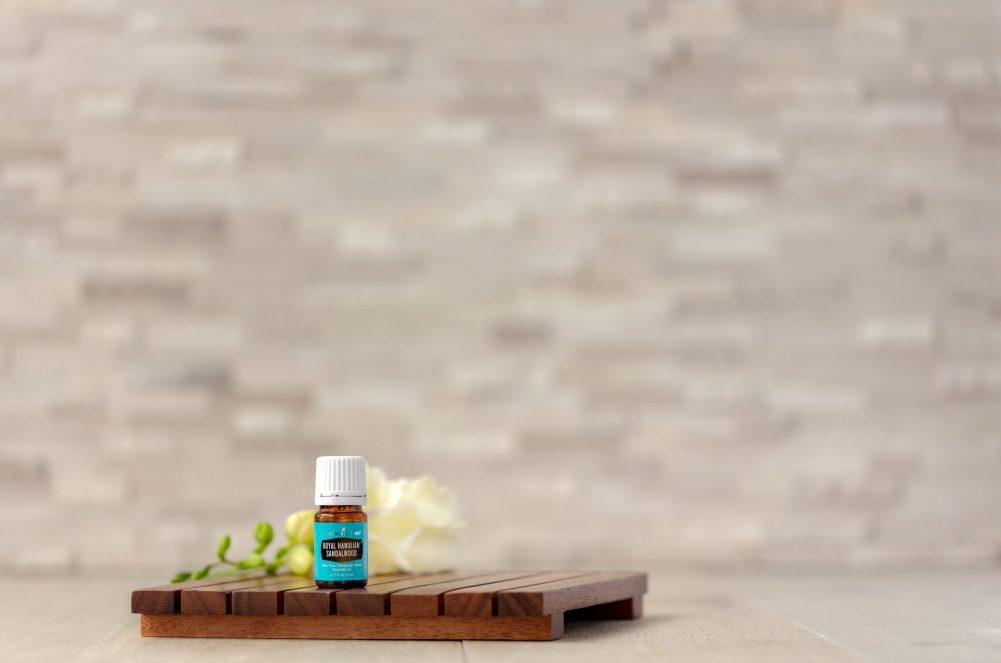 Spearmint essential oil
Not all beaches are full of hot sand and beating rays. Walks on pebbly shores accompanied by salty winds are the stuff of adventure novels and dreamy movies. Spearmint essential oil's crisp, invigorating scent is the unexpected winner of beach day! Check out this Beach House diffuser blend to find out why.
Minty-cool massage with Spearmint
When that breezy walk turns into a brisk jog, treat tired muscles with a DIY cocoa-mint massage bar. You'll love the indulgent scent of cocoa butter and sweet almond oil as you hydrate parched skin.
Tired from toting around beach gear all day? Massage those shoulders with a combination of 1 drop Spearmint, 1 drop M-Grain, and 1–2 teaspoons of V-6 Vegetable Oil Complex.
Citronella essential oil
Citronella essential oil is lemony, herbaceous, and the chef's kiss of all our beachy picks. Its aroma helps us imagine we're exploring ancient cliffs and colorful seaside towns. A summery sidekick that's not to be missed, Citronella is the sea-spray scent we all need.
Summery scents with Citronella
Sweeten up the scent of your sunscreen by infusing YL's Mineral Sunscreen Lotion with the citrusy aroma of Citronella.
Add a few drops to your laundry soap or dryer balls to carry the smell of summer with you everywhere.
If sandy shores aren't on this week's agenda, bring the beach indoors by mixing and matching these oils into a custom diffuser blend!
What essential oils do you always tote to the beach?
Give us a sandy-dandy list in the comments below!
The post "Seas" the day: 4 essential oils to turn on beach mode appeared first on Young Living Blog.
via Young Living Blog https://bit.ly/2ZGgEK7