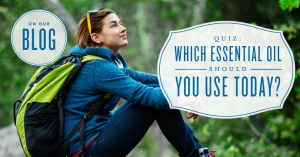 It's a new day full of new possibilities--but where will those possibilities take you? Take our quiz to find out what to put on your schedule today! The best part? We'll pair your vibe with an essential oil to set the tone for whatever your day has in store!
Looking for more fun? Check out our essential oil botanical quiz and our quiz to determine what diffuser blend you need right now!
Which essential oil do you use to boost your day?
Tell us your favorites in the comments!
via Young Living Blog http://bit.ly/2Hw1pst