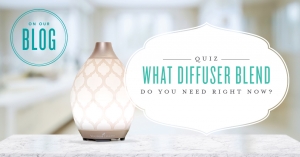 In the mood for something new? Sometimes you're looking for a different diffuser blend, but you just don't know what to try. Take our quiz to find the blend that perfectly matches your mood—or sets the mood you want to create! Whether you're checking things off your to-do list or cuddling up with a good book, we'll help you find a blend that fits how you feel!
Want even more diffuser blend ideas? Check out our post Your favorite songs, our diffuser blends for more ideas and a playlist!
Find your recommended diffuser blend oils here!
---
Which essential oils do you love to use for your mood? Share your tips in the comments!
via Young Living Blog http://bit.ly/2nmEUNS