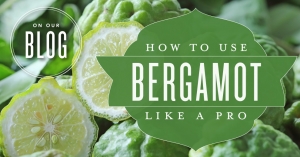 With a unique spicy and tart citrus scent, Bergamot oil is a favorite among the oil obsessed. But being a Bergamot pro is more than being able to answer questions like "What is Bergamot?" and "What does Bergamot smell like?" It's knowing Bergamot oil uses, the benefits of Bergamot essential oil, and Bergamot's background. Check out our insider tips, tricks, and info to get on track to the pro league!
---
1. Know the history
The quickest way to establish you're a pro is to know a little about the background of whatever you love—in this case, Bergamot essential oil! The bergamot orange is primarily cultivated in Italy and is about the size of an orange, with a yellow-green color that's similar to a lime. The rind of the fruit is cold pressed to extract the oil from the fruit and to get it into your hands. Most recognizably, Bergamot has been used as the flavoring in Earl Grey tea.
---
2. Upgrade your skin care
Because of Bergamot's cleansing properties, you can find it in shampoos, soaps, cleansers, and skin care! Apply a drop to you skin or add the oil to your toner to create the appearance of smoother-looking skin. We suggest using it as part of your nighttime routine, since Bergamot comes with a photosensitivity warning.
---
3. Use it for more than a great scent
Bergamot is known for its tart citrus scent, which makes it a popular top note for perfumes. But it's so much more than a great-smelling essential oil! Bergamot oil also helps bring a positive and uplifting environment when diffused, or in a pinch, you can place a drop in your palms, rub them together, and inhale directly during unsettling times.
---
4. Make something unique
Bergamot is a great oil to diffuse on its own, but it also lends itself to delicious-smelling blends and custom creations. One of our favorite concoctions combines the sweet, tart scent of Bergamot, Lemongrass, and Grapefruit for an aroma reminiscent of chewy fruit candies—without the consequences!
Sugary Citrus Blend
4 drops Bergamot
3 drops Lemongrass
3 drops Grapefruit
---
5. Discover it in new places
In addition to your custom creations featuring Bergamot, you can also find it in Young Living's proprietary blends. Add even more Bergamot goodness to your day with popular essential oil blends such as Joy™, Harmony™, and Acceptance™!
---
6. Add some zest to your day
To truly be a pro, you have to use this citrus oil in every aspect of your life—even your diet! Bergamot Vitality™ has a fresh taste that's reminiscent of lemon and orange combined. Add a touch of tartness to your baked goods by combining a few drops of Bergamot Vitality with Blue Agave Natural Sweetener to create a simple drizzle you can use to top muffins, breads, and pastries.
---
Want to master more essential oils? Check out 8 reasons you should be using Vetiver, All about Thieves®, and 9 things you didn't know about Myrrh essential oil to learn more!
How do you love to use Bergamot? Share your know-how in the comments!
via Young Living Blog http://bit.ly/2ElcAXv