Share the gift of essential oils this holiday season with three easy personal care DIYs! First introduced at our 2015 Beauty School, these tried-and-true recipes are easy, inexpensive, and just a little luxurious. Plus, they make a giftable package in small mason jars or lip balm pots wrapped with a festive ribbon. Check the bottom of the post for a printable PDF of our adorable gift tags!
Mistletoe Lip Scrub
Nothing says "kiss me!" like a homemade lip scrub. Make sure you're ready for the mistletoe with Christmas Spirit essential oil blend and coconut oil for a smooth and moisturizing effect. Pucker up for the holiday season with our exfoliating recipe! Pair it with our lip balm set for the perfect combination!
2 tsp. organic evaporated cane juice crystals
¾ teaspoon coconut oil
1–2 drops Christmas Spirit

essential oil blend
Combine ingredients and add to containers.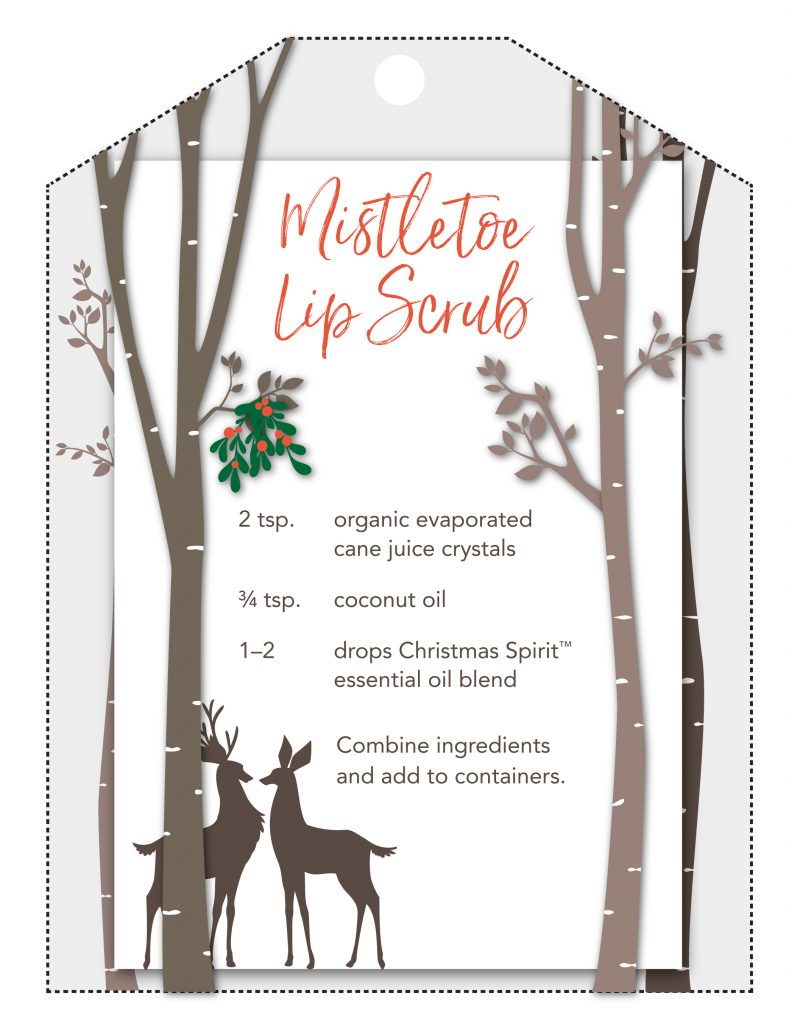 Moo-Less Milk Bath
Give your friends and family the perfect spa getaway in the comfort of home! Our moo-less milk bath can be poured into jars for storage and scented with your favorite essential oils. When you or your friends are ready to escape the day, add milk to the dry mixture for a relaxing and rejuvenating bath!
½ cup dry coconut milk powder
2 Tbsp. baking soda
2 Tbsp. arrowroot starch
10–15 drops of your favorite topical essential oil
Mix dry ingredients together. Pour half the amount into a half pint-sized glass jar or larger. Drop essential oils into the center. Pour the other half of the powder mixture on top. Secure jar lid and shake until well combined.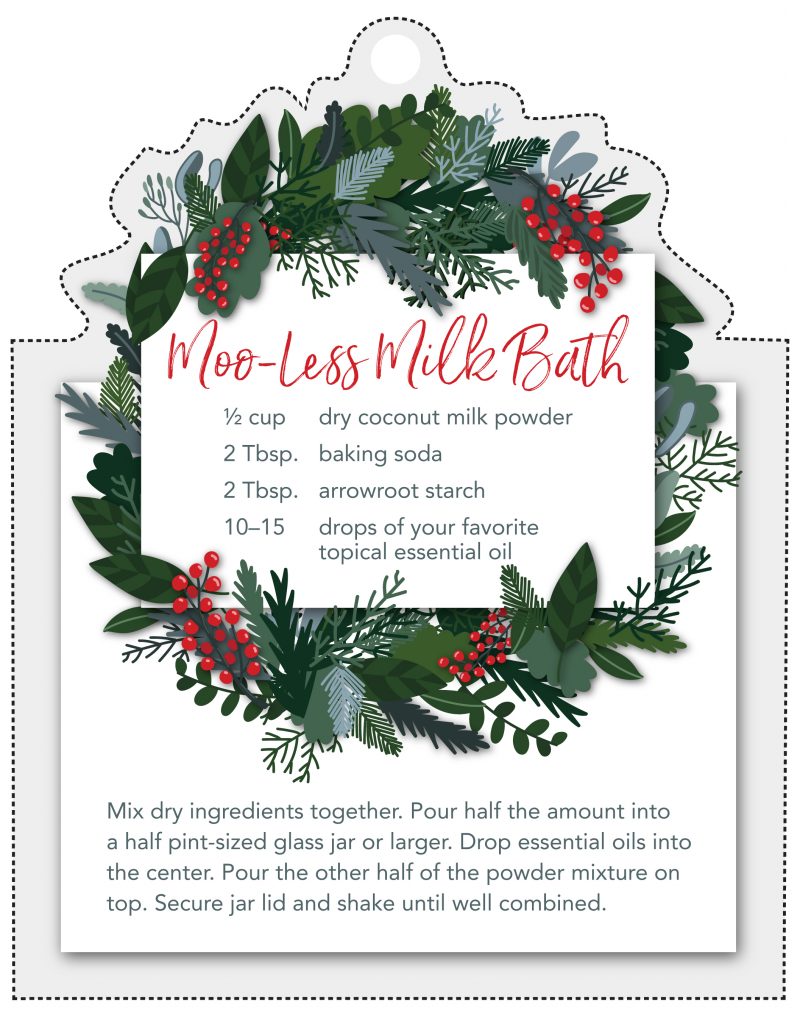 Silky Foot Soak
Take the load off after the holiday travels, caroling, and all the season's greetings with an Epsom salt foot soak. Create your own combinations of your favorite topical essential oils and store in glass jars for a gorgeous gift or bathroom decor. Try some of our favorite blends for a perfect holiday smell! (link to Christmas diffuser blends)
½ cup Epsom salt
2 Tbsp. rolled oats
10–15 drops of your favorite topical essential oil
Thoroughly combine ingredients and store in a glass jar.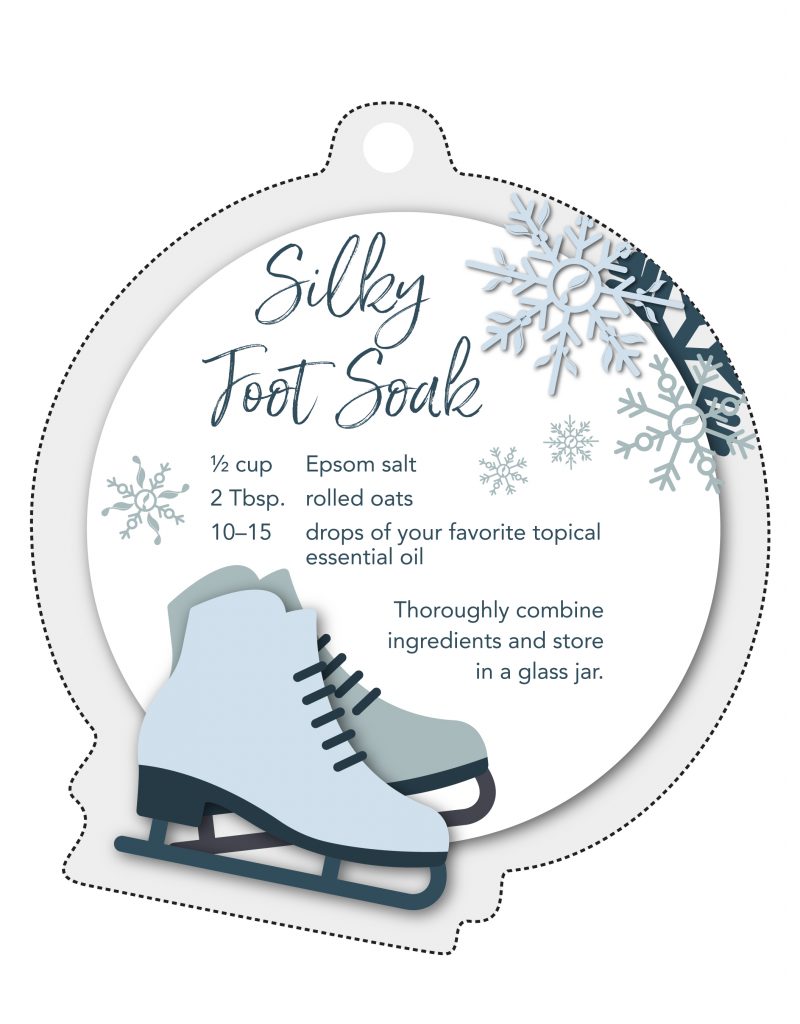 These simple recipes are perfect for sharing your passion for Young Living essential oils! Download our free printable gift tags to make sharing even easier.
These simple DIYs are great for an activity with your team, or just for sharing your YL love with friends, family, and neighbors this holiday season. Check out our make-and-take party post for ideas on how to host a fun event featuring these holiday gifts.
What topical essential oils will you use in your holiday DIYs?
Let us know in the comments!
Giveaway!
We can't wait for you to try these DIYs! To help, we're giving away Christmas Spirit diffuser blend, Lavender essential oil, coconut oil, and our Relaxing Massage oil (valued at $100.77 retail) to one randomly selected person. Simply fill out the form on this page and comment on the post for your opportunity to win. What are your favorite Young Living DIYs?
Giveaway Rules:
To enter, fill out the form below and comment on this post.
Contest ends at 9 a.m., MT, on Sunday, December 8.
One winner will be randomly chosen and emailed by our team.
Click here for the official rules.
The post Homemade Holidays: DIY Essential Oil Gifts appeared first on Young Living Blog.
via Young Living Blog http://bit.ly/2DRVDS6