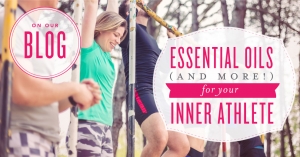 What's your reason for getting your body moving? Maybe you're looking for a new way to relieve some stress, or maybe you want to push yourself to excel at a sport you love. Maybe you want to show yourself that you can achieve whatever you put your mind to!
Whatever reason you have for unearthing your inner athlete, we're here to cheer you on and give you the support you need to reach your goals. Whether you're already at the top of your game or you're taking your first steps into a new sport like basketball, backcountry skiing, or rock climbing, we've got tips and tools that can help you feel energized, inspired, and ready to go!
---
DAILY SUPPORT
PowerGize
A blend of essential oils and carefully selected botanicals, PowerGize

is one of our favorite daily supplements! Jump-start every morning with two capsules of PowerGize before your daily workout. This unique blend is formulated to help support energy levels, sustain mental clarity, and more!*
Why we love PowerGize:
Helps maintain balanced energy levels for physical performance and endurance*
Helps support healthy muscles, increase muscle size and strength, and enhance muscle tone and the rate of muscle recovery in men*
Promotes a balanced sense of energy and calm*
Helps promote mental clarity, concentration, and alertness*
Helps promote a healthy response to everyday stress, overwork, and fatigue*
---
PRE-WORKOUT BOOSTS
NingXia Nitro
When you're facing a tough workout—or you need a boost to get you out of bed and into the gym—reach for NingXia Nitro®. This blend of essential oils and botanical extracts supports normal energy levels and alertness to help you get through your workout routine with energy to spare!*
Why we love NingXia Nitro:
Supports cognitive and physical fitness*
Provides a boost before or during your workout, thanks to naturally occurring caffeine*
Easy to carry and pack in a gym bag
Before-Gym Essential Oils
These essential oils are great on their own, but we love using them together to give us a refreshing aroma before we hit the gym. You can diffuse this blend or apply it topically. Our favorite way to get pumped for a workout? Put on your favorite workout playlist, put a drop or two of this blend on your palms, then cup your hands to your face and breathe in deep. Let the fragrance and tunes inspire and uplift you!
Wake Up and Work Out Blend*
5 drops R.C.

essential oil blend
4 drops Peppermint essential oil
1 drop Eucalyptus Radiata essential oil
*This recipe is based on a 10-drop diffuser blend.
---
POST-WORKOUT RECOVERY
AminoWise
Your workout regimen shouldn't end when you leave the gym or step off the trail! It's important to make sure your body has the support it needs for recovery. AminoWise

is formulated to support your muscles during and after your workout to enhance recovery and performance.* Mix one scoop of AminoWise with eight fluid ounces of water and drink it during or immediately after your workout! This post-workout drink includes a muscle performance blend, recovery blend, and hydrating mineral blend to build and repair muscles, reduce lactic acid, and replenish minerals lost in exercise.*
Why we love AminoWise:
Helps support muscles during and after exercise to help fight fatigue and enhance recovery*
Reduces lactic acid induced by exercise through a complex blend of antioxidants and minerals*
Helps support the production of nitric oxide, which can improve vascular blood flow*
Contains branched-chain amino acids, which have been shown to aid in preventing muscle breakdown from exercise*
Supports hydration by replenishing important minerals lost during exercise*
Pure Protein Complete
Don't settle for any old protein supplement. Pure Protein Complete

provides 25 grams of protein and a full range of amino acids to help your post-workout muscle recovery.* Mix your choice of Pure Protein Complete—in Chocolate Deluxe or Vanilla Spice flavor—with water or the milk of your choice and drink it within 45 minutes of your workout. This proprietary blend of enzymes, amino acids, and protein will give your body the post-workout support you need!
Why we love Pure Protein Complete:
Supplies 25 grams of protein with an optimal five-protein blend*
Provides a full range of amino acids, including d-aspartic acid, threonine, l-serine, glutamic acid, glycine, alanine, valine, methionine, isoleucine, leucine, tyrosine, phenylalanine, lysine, histidine, arginine, proline, hydroxyproline, cystine, tryptophan, and cysteine*
Offers protein metabolism support*
Supports ATP production, the energy currency of the body, with elevATP—an extract of ancient peat and apple*
Supports post-workout muscle recovery*
After-Workout Topical Muscle Relief
Give your body some post-workout pampering. Your muscles will thank you! Give some of our favorite essential oils and Young Living products for after a workout a try:
*These statements have not been evaluated by the Food and Drug Administration. Young Living products are not intended to diagnose, treat, cure, or prevent any disease.
Looking for more healthy tips? Get ideas for slipping exercise into your daily routine and learn how to make the most of your meals with this seven-day plan!
What tips, tricks, and tools do you use to support your inner athlete?
via Young Living Blog http://bit.ly/2oFBtDB