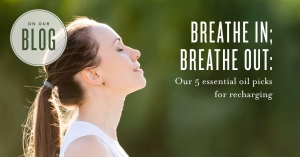 There are countless ways to use essential oils. Applying them topically can bring a range of benefits, and we love using our Vitality

line in favorite essential oil recipes. When we need a boost, there's no denying that one of our favorite ways to recharge is simply enjoying the aromatic benefits of Young Living's essential oils and blends by taking a few deep breaths.
R.C. essential oil blend
Breathe Again Roll-On
Peppermint essential oil
Eucalyptus essential oil
Rosemary essential oil
Lemon essential oil
Rise & Shine
3 drops Lemon essential oil
3 drops Citrus Fresh

essential oil blend
4 drops Peppermint essential oil
---
We love feeling energized or soothed by the aromas of essential oils, and we love the other ways we can add them to our life! Here are the essential oils we keep by our bedside table and the oils we turn to when we're in a bad mood!
What are your go-to essential oils for a sense of rejuvenation? Let us know in the comments!
via Young Living Blog http://bit.ly/2IYjMau