With its big cities and blue waves, Australia sounds like the perfect getaway. Can't make it to the land down under to see those stunning landscapes? Check out Australian Ericifolia, an oil straight from the Outback with a scent that's as fresh and clean as the open air of the Australian bush!
Australian Ericifolia oil is extracted from the steam-distilled vivacious Melaleuca ericifolia, a plant that hails from the pristine landscapes of Tasmania. This Australian oil is also known as Lavender Tea Tree. As a cousin of Tea Tree, Australian Ericifolia combines the benefits of Tea Tree with the gentle fragrance of Lavender. Two great oils in one? Yes, please!
Australian Ericifolia essential oil has a clean, herbaceous smell with back notes that are freshly floral. Its sweet and woodsy scent is sure to remind you of Australian sunshine wherever you are!
Looking to create an essential oil blend of your own? Mix Australian Ericifolia with warm scents like Patchouli, exotic Royal Hawaiian Sandalwood

, or woodsy Cypress and Juniper.
How to use Australian Ericifolia
Woodsy with lingering floral notes, the outdoorsy scent of Australian Ericfolia will have you hooked in no time! Great news—there are countless ways to use this oil. Check out our top 10 below!
1. Stash a fresh scent. Put a few drops of this essential oil on a cotton ball and tuck it into drawers or closets for a fresh and bright aroma.
2. Add a few drops to aloe vera gel after a dreamy day in the sun for an extra-clean scent. Combine with aloe vera's moisturizing properties for some post-sun pampering!
3. Try a DIY foot soak for a mini staycation! Add a few drops of Australian Ericifolia, Peppermint, and Lemongrass to your footbath for a sweet and woodsy aroma during your downtime.
4. Add a few drops to your favorite hand lotion for a freshly floral scent while you imagine Australian shores, no matter where you are!
5. Bring some Australian sunshine indoors with an essential oil room spray! To a spray bottle, add 4 ounces water, 2 ounces witch hazel, 15 drops Australian Ericifolia, 10 drops Cedarwood, and 10 drops of Purification® essential oil blend. Spritz anywhere a space needs a refresh!
6. Want more staycation ideas? Treat yourself to a DIY scalp scrub! Mix 1 teaspoon salt, 1 tablespoon hair oil, 1 drop Australian Ericifolia, and 1 drop Rosemary. Relax as you massage the scrub into your scalp, and then follow your usual wash-and-dry routine.
7. Keep it simple with a topical application. Add a drop to V-6

Vegetable Oil Complex and rub into chest during rush hour traffic or an afternoon slump.
8. Glow up your skin care routine! Add Australian Ericifolia to your daily facial cleanser or moisturizer for a clean, woodsy scent.
9. Ready to relax? Try a massage! Add some Australian Ericifolia and a drop of Roman Chamomile to massage oil for a bedtime foot rub.
10. Try this crisp, outdoorsy diffuser blend for post-workday refreshment. The woodsy scents of Eucalyptus Globulus, Northern Lights Black Spruce, and Australian Ericifolia are complemented by the light citrus of classic Lime. You'll be daydreaming of the Australian Outback in no time!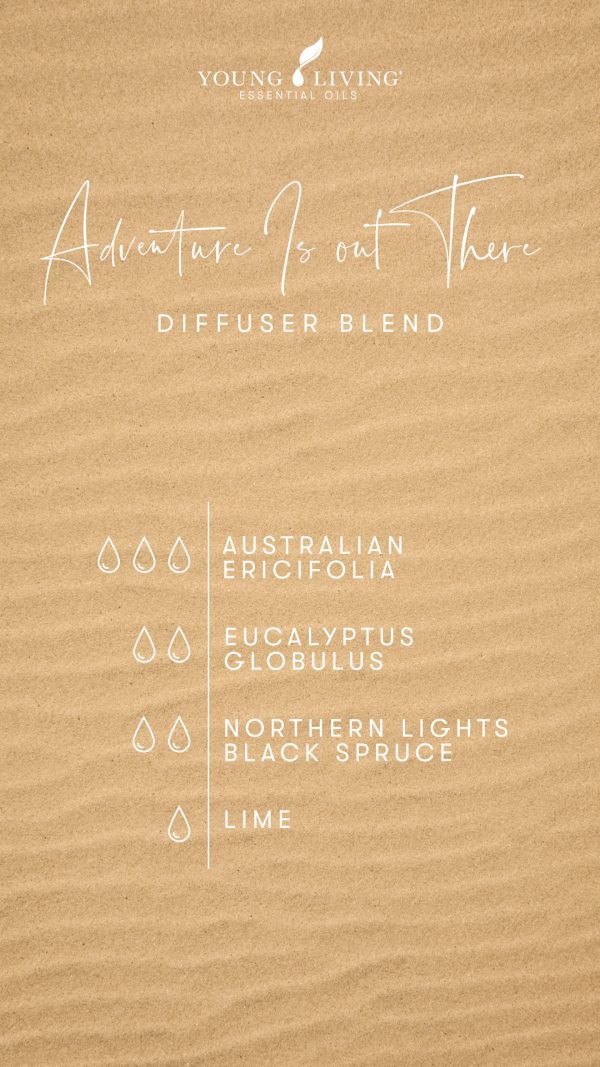 Looking for other outdoorsy scents? Check out other Australian-derived essential oils like Blue Cypress or Kunzea!
Which idea is your favorite?
Tell us in the comments below!
The post Adventure into the Outback: 10 ways to use Australian Ericifolia appeared first on Young Living Blog.
via Young Living Blog https://bit.ly/2ZBMgBi