Feeling weak and weary? We say, "Nevermore!" If October seems dark and dreary, reach for Raven

essential oil blend. Its Poe-fect scent brightens the day of even the broodiest poets. And if your day could use more moments of deep breathing, Raven's cooling sensation and refreshing aroma will do the trick!
One thing Raven can't do? Mask the beating of a tell-tale heart. Good thing there are nine other things it can easily a-caw-mplish!
What's in Young Living's Raven essential oil blend?
What makes Raven so tweet-worthy? We chirp up this blend's bold, brisk scent to a combo of five essential oils with energizing aromas:
Raven essential oil blend uses
This list only scratches the surface of what Raven can do. Try one or two of these ideas and it won't be long before you're crowing about this bright blend to friends and family!
Refresh musty rooms

Stinky closets and stuffy rooms? Freshen even the smallest spaces with a spray of 1 cup water, ½ cup witch hazel, 10 drops Raven, and 5 drops Tea Tree.
Chillax

Feeling a little hot under the collar? Reach for Raven! Dilute 1:1 with V-6 Vegetable Oil Complex or another carrier oil and apply to the back of the neck. A cooling sensation will quickly swoop in to save the day!
Settle in for a soak

End a particularly peckish day with a soothing soak. Combine 5 drops of Raven with ½ cup of Epsom salt. Toss into the tub for an indulgent bath that relaxes as it rejuvenates, thanks to the naturally occurring constituents of menthol, eucalyptol, and methyl salicylate.
Reenergize after workouts

Fitness buffs rejoice! Use Raven as part of your exercise routine to promote the sensation of deeper breathing. How? Create a chilled spa towel! Fill a large bowl with water and add 8-10 drops of oil. Submerge washcloths in water and squeeze out excess liquid. Fold or roll the towel, place in a reusable plastic container, and freeze. Pop the container in your bag before heading to the gym or playing sports.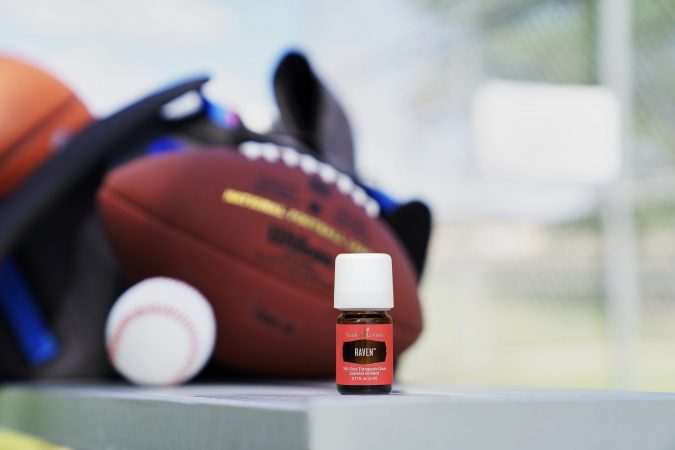 Breathe deep

When cold weather has you ready to take flight to a tropical location, stay grounded with the scent of Raven essential oil blend. Inhale directly from the bottle or add to V-6 and rub on the chest and throat area.
Treat your feet

If your tootsies are beyond tired, rescue them with a little Raven. Before bed, add a drop or two to a thick foot cream, gently massage into feet, and pull on a pair of warm socks. The cream moisturizes while the blend's minty aroma nourishes the soul.
Make time for massage

Feeling like a hummingbird as you flit through your to-do list? Schedule in some downtime! Dilute Raven with your favorite massage oil and gently rub into tapped-out muscles. The mini massage will help you soar through the rest of your day.
Push through

Occasionally, life can throw you for a loop. Rather than warble in self-pity, give yourself wings! Dilute 1 drop Raven with 1 drop V-6, rub into wrists, and let the inspiring aroma renew your resolve.
Get comfy

Be caw-ful—Raven's invigorating scent can be deceiving! When diffused with Frankincense, Lavender, and Thieves, this blend's breezy, fresh scent turns a home into a cozy retreat.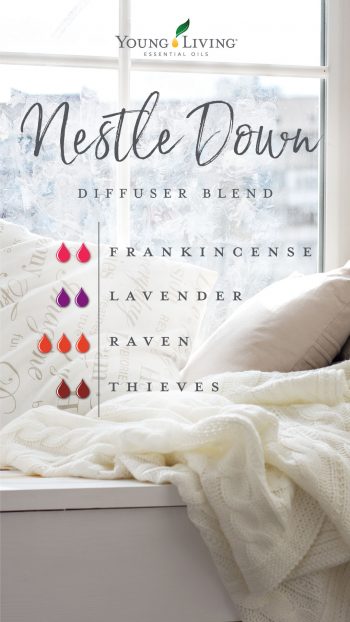 If you've fallen in love with Raven, take a peep at R.C.

This rejuvenating essential oil blend is a must for your collection! Feeling the Eucalyptus love with these blends? Check out our guide on how to use Young Living's Eucalyptus essential oils.
Why is Raven at the top of your EO pecking order?
Let fly in the comments!
The post 9 reasons Raven should wing its way into your collection appeared first on Young Living Blog.
via Young Living Blog http://bit.ly/2JCFaEG