Finally live the life you want to live. This list explains what our Peace & Calming® essential oil blend is used for, as well as some recipes and helpful tips on how it can help you solve some everyday problems. Whether you want to create a more inviting home, implement a restful bedtime routine, or just find a way to live in the moment, Peace & Calming can help you to get there!
For custom scents
The dilemma: Lotions and perfumes contain scents that can be too strong or wreak havoc on your senses.
How to use Peace & Calming blend:
Peace & Calming's blend of Tangerine, Orange, Ylang Ylang, Patchouli, and Blue Tansy is distinctive and sophisticated, while still subtle enough that it won't overwhelm the senses.
Use as perfume on the wrists and neck as desired to create the right sensory affect.
Add drops to unscented lotion until you find the perfect custom blend.
For lackluster skin
The dilemma: Maybe you're not sleeping well or maybe you're feeling run down at work. Whatever the reason, you skin has lost its healthy glow.
How to use Peace & Calming blend:
Work, parenting, and time can be so hard on your skin. Peace & Calming includes Young Living's Orange and Blue Tansy essential oils, which help reduce the appearance of blemishes and moisturize your skin, especially when added to a face lotion.
Add a drop of Peace & Calming to your face lotion at night before you go to bed to give your skin care (and bedtime!) routine a boost.
Make a skin spray with 2 ounces of water and 10 drops of Peace & Calming to use whenever you want to refresh tired skin.
For a calm-down routine for kids
The dilemma: The kids are fussy, won't go down for a nap, or just have a little too much energy.
How to use Peace & Calming blend:
Create a calm-down routine with your children when they're overstimulated or when it's time for bed.
First, rub some Peace & Calming on the bottoms of their feet.
Then lead them through some simple stretches or basic yoga poses while you use Peace & Calming in one of our colorful kid-friendly diffusers (we like the Dino-Land Ultrasonic Diffuser or the Dolphin Reef Ultrasonic Diffuser).
Practicing rituals and teaching children specific processes for how to calm down can help them to regulate their own emotions and energy.
For difficult days
The dilemma: Work was stressful, the kids are going wild, and you got stuck on the freeway for an hour. Sometimes it can be tough just to get through the day.
How to use Peace & Calming blend:
Take a moment to center yourself with a hot Peace & Calming-infused bath. Add 5 drops of Peace & Calming and 5 drops of Copaiba essential oil to ½ cup of Epsom salt then add to the bath for a relaxing soak. Self-care is crucial, and taking some time for yourself to soak and let the stressful feelings roll off can make all the difference on a difficult day.
For mindfulness
The dilemma: Sometimes it's difficult to clear your mind and live in the moment.
How to use Peace & Calming blend:
Life can pass by quickly, and it's easy to become so distracted that you don't take time to appreciate what's right in front of you. Apply a drop of Peace & Calming directly to your chest and close your eyes. Take some slow breaths and ground yourself. If you begin to feel distracted, focus on the scent of Peace & Calming to help yourself stay present.
For a refreshing home environment
The dilemma: From pets to dirty dishes to smelly laundry, nothing disrupts your home's peaceful ambiance quite like an offensive odor.
How to use Peace & Calming blend:
Use a diffuser to spread the invigorating and clean scent of Peace & Calming throughout your home.
Peace & Calming helps eliminate unpleasant odors and leaves your house feeling more like a home—a place where you and your family will want to spend time together.
Orange and Tangerine essential oils bring a bright, refreshing scent that creates an energetic environment. Patchouli, Ylang Ylang, and Blue Tansy carry subtle, calming fragrances that lend a deep sense of peace to any space.
This freshening diffuser blend combines Peace & Calming with Bergamot, Lavender, and Spearmint to create the best possible scents in your home.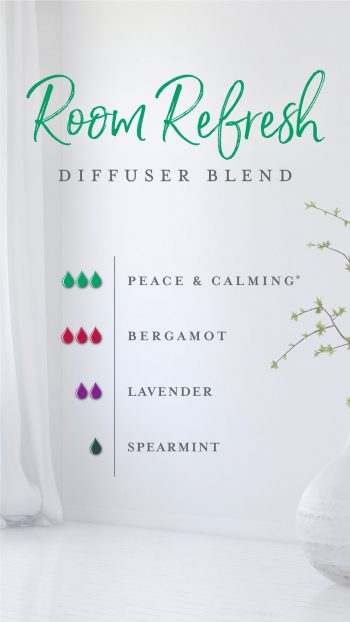 For your nighttime routine
The dilemma: Your mind is racing and you can't seem to get to sleep.
How to use Peace & Calming blend:
Start by diffusing Peace and Calming to create the restful atmosphere you need.
Next, use a combination of Peace & Calming and V-6

or coconut oil to give yourself a foot and hand massage. Take deep, rhythmic breaths to prepare for rest and relaxation.
Going through a bedtime routine like this with Peace & Calming is a great way to train yourself for more restful sleep.
If you found this post helpful, we think you'll love learning about some of our other essential oil blends and what they can do for you. You can start by reading about one of our most popular blends, Stress Away

!
What's your favorite way to add Peace & Calming to your day?
Tell us in the comments!
The post 7 ways Peace & Calming lives up to its name appeared first on Young Living Blog.
via Young Living Blog http://bit.ly/2uv1RCH