In the mint family, Spearmint can get overshadowed by its powerhouse cousins Peppermint and Rosemary. But we think it's high time Spearmint stepped into the limelight. Stay with us for some enlighten-mint (sorry, not sorry) on what makes Spearmint essential oil so special!
What can Spearmint essential oil be used for?
Spearmint essential oil's benefits are nearly boundless. Hair care, linen sprays, breezy diffuser blends—you name it, Spearmint does it. Here are a few of our top tips for making the most of this mild mint oil (or as we like to call it: the gentler mint).
Mellow out with a massage
Spearmint is milder than Peppermint, so it's a perfect massage oil. Try it on tired feet (or anywhere else you need it) with a dime-size amount of V-6

per drop of Spearmint oil. Because its constituents are different from Peppermint's, it doesn't leave the same cooling sensation on the skin, but you'll still get a whiff of minty freshness.
Explore these other ways to use Spearmint in a massage:
Before you begin kneading those sore muscles, check out our tips for a great massage.
Keep it cool with CBD
Spearmint and CBD are mint to be! Enjoy the best of both in Cool Mint CBD, which also contains Peppermint for an extra fresh experience. If you're new to CBD and don't know where to start, try one of these ideas: Add a dropper-full to your bath water or put a drop in unscented lotion and rub into your hands and feet.
Untangle a hairy situation
Wondering if Spearmint oil is good for hair? This EO is a great addition to many personal care products, and hair care products are no exception! We recommend adding it to your shampoo or conditioner for a wake-me-up scent during your morning shower.
Here are a couple other ways to incorporate Spearmint oil's benefits into your hair care routine:
Try a stimulating scalp massage—add a drop each of Spearmint and Tea Tree to a few drops of hair oil and rub into your roots.
Use Lavender Mint Shampoo and Conditioner to enjoy Spearmint along with lock-loving oils like Lavender and Rosemary.
Spray all day
Can't get enough of Spearmint's fresh, uplifting fragrance? Then you'll love it in this linen spray. Combining Spearmint with other cheerful yet calming aromas, this spray is simply sublime. To make it, put all ingredients in a spray bottle, shake, then spritz on linens whenever you want to set a happy atmosphere.
4 ounces water
2 ounces witch hazel
10 drops Spearmint
10 drops Frankincense
10 drops Rosemary
10 drops Orange
Taste the refresh-mint
A not-so-well-kept secret is that Spearmint tastes as delightful as it smells. Try Spearmint Vitality

to punch up everything from your toothpaste to your famous lemonade—just maybe not in that order.
Here are a few recipe ideas to get you started:
Jazz up plain old water with a drop in your glass or water bottle.
Make mouthwash in a pinch with 2 drops added to 1 ounce of water.
Treat your taste buds to a fresh-tasting pesto using mint leaves, garlic, olive oil, and 1–2 drops.
Add some zing to lemon vinaigrette with 2–3 drops.
Season couscous, rice, or quinoa with Spearmint, garlic, and all your favorite herbs.
If you're ready to take your culinary creations to a new level of flavor, check out these tips for cooking with essential oils.
Escape in your diffuser
Spearmint's light, bright scent pairs well with almost any essential oil, especially citrus oils. Try it in your diffuser with Lime, Eucalyptus Radiata, and Cedarwood for a refreshing seaside scent. Whether you're packing your bags for an island getaway or wistfully looking out the window at home, you'll love how this diffuser blend brings the beach indoors.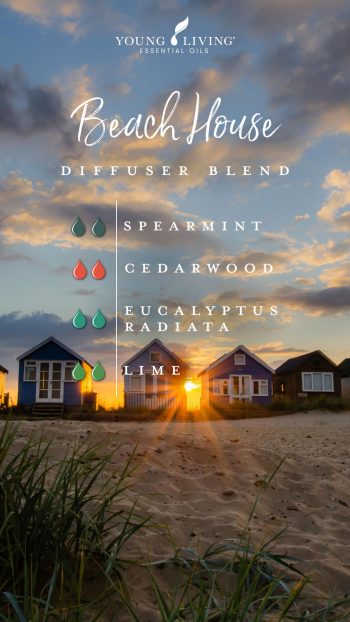 Spearmint vs. Peppermint: What's the difference?
Both Peppermint and Spearmint have classic minty scents and come from steam distillation of the plants' leaves and flowering tops. While you can substitute one for the other, they are far from the same.
Discover what makes each of these EOs unique.
Spearmint
Latin name: Mentha spicata
Aroma: Familiar and sweet, like a stick of gum
Constituents: Carvone
Peppermint
Latin name: Mentha piperita
Aroma: Bright and clean, like the herb from the garden
Constituents: Menthol, menthyl acetate
Giveaway!
Sold on Spearmint? So are we! We are giving away bottles of this fresh essential oil to three lucky winners! Simply enter your email in the form on this page and comment on this post for your opportunity to win! What are some of your favorite ways to use Spearmint?
Giveaway rules:
• To enter, fill out the form on this page and comment on this post.
• Contest ends at 9 a.m., MT, on Monday, May 25.
• Three winners will be chosen at random and emailed accordingly.
• Click here for official rules.
Want to meet more of the mint family? Check out our guides on Spearmint's cousins Peppermint and Rosemary next!
Which of Spearmint's benefits will you be testing first?
Tell us in the comments!
The post 6 straight up clever ways to use Spearmint essential oil appeared first on Young Living Blog.
via Young Living Blog https://bit.ly/2AGtwqH