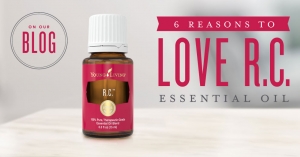 Picture this: You come home from a long day, drop into your favorite recliner, and then remember five more things you need to cross off your to-do list before you can kick back. Sound familiar? You need to find out about the refreshing benefits and uses of R.C. essential oil blend—and why you need this little bottle of goodness in your oil collection!
There's one common question we get about R.C. essential oil: What does the R.C. stand for? Well, it turns out it can stand for a lot of things.
1. Robust Complexity
R.C. essential oil is a powerful blend of 10 essential oils. The aroma of Northern Lights Black Spruce, Cypress, and Pine will make you feel like you're standing in a deep forest, cooled by the freshness of Peppermint and three types of Eucalyptus oils. Lavender, Myrtle, and Marjoram sweeten the scent.
YL Tip: Diffuse R.C. oil to fill your home with a refreshing aroma and give yourself the uplifting boost you need to finish your to-do list.
2. Refreshing Companion
The aroma of R.C. essential oil is like a breath of fresh air, which makes it a great scent to accompany exercise! It doesn't just promote the sensation of deeper breathing—it also makes you feel like you're running a mountain trail instead of hitting the treadmill.
YL Tip: Before your morning workout, rub diluted R.C. oil onto your chest and the back of your neck. Every breath you take will give you an invigorating boost of fragrance!
3. Rejuvenating Coolness
Workouts aren't the only tough spot in your day. When you feel like you've hit a wall—mentally or physically—the fresh aroma and cooling sensation of R.C. essential oil can help you feel refreshed, rejuvenated, and ready to keep going.
YL Tip: Dilute R.C. oil with V-6

Vegetable Oil Complex and use it for a foot massage. This gives you a one-two punch of fragrance and a cooling sensation that will help you put your best foot forward.
4. Revitalizing Care
The aroma of R.C. essential oil is both relaxing and invigorating—like a day at the spa that leaves you feeling refreshed. Treat every day like a spa day by adding R.C. oil into your daily routine to help you feel revitalized.
YL Tip: Add a little power to your shower with a few drops of R.C.! The warm water will calm and soothe you, and the oil will diffuse with the steam for an invigorating and empowering aroma. It's great added to a hot bath, too!
5. Relaxing Comfort
Have you ever been stuck in a stuffy hotel room or found yourself tossing and turning on a humid night? R.C. essential oil is great for banishing musty aromas and making your space more comforting when you settle in for the night.
YL Tip: Bring R.C. oil with you when you travel. Use a portable diffuser or put a few drops on a cotton ball beside your bed to fill the room with a fresh, comforting aroma.
6. Raindrop Technique Component
Technically that's an R.T.C., but it's worth the stretch. If you haven't learned about Young Living's Raindrop Technique®, now's a great time to begin your journey!
YL Tip: R.C. essential oil makes a great substitute for Aroma Siez

in the Raindrop Technique!
Bonus YL Tip: Our favorite tip for using R.C. oil? Simple. Apply the diluted oil to your chest and wrists every morning. The aroma will help you feel uplifted, energized, and ready to tackle what comes your way. Nothing's going to keep you down today—because you are a Resilient Champion.
*These statements have not been evaluated by the Food and Drug Administration. Young Living products are not intended to diagnose, treat, cure, or prevent any disease.
---
Want more tips for using oils? Check out 8 reasons you should be using Vetiver and how to use Bergamot like a pro!
Do you have a favorite way to use R.C. essential oil?
Let us know in the comments!
via Young Living Blog http://bit.ly/2EgtvWC