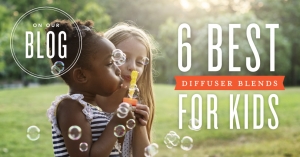 Kids love essential oils! Maybe it's the tiny, adorable bottles; or perhaps it's the whole new world of scents to explore. No matter the reason, the littlest members of the family always pop up when it's time to fill the diffuser. Make sure they get to be a part of the fun with these essential oil diffuser blends created just for kids! From the time they wake up 'til they're singing the bedtime blues, these delightful concoctions are perfect for the pint-sized.
These essential oil blends for kids have been formulated for a 10-drop diffuser; please adjust accordingly for the diffuser in your space.
1) Good Morning, Good Day Blend
Waking up is hard to do! If you can't get your kiddos out of bed in the morning, try filling their room with Peppermint and Citrus Fresh

! This invigorating blend creates an energizing atmosphere that can stay with them all day long.
8 drops Citrus Fresh essential oil blend
2 drops Peppermint essential oil
2) Stink-be-Gone Blend
Freshen up around piles of laundry or in a musty bathroom with this special kid blend that includes Purification®, a cheery combination of Citronella, Lemongrass, and Rosemary designed to fight odors. Softened by the bright floral scent of Neroli, this blend is sure to banish funky aromas in any room.
5 drops Orange essential oil
2 drops Neroli essential oil
2 drops Tea Tree essential oil
1 drop Purification essential oil blend
3) Study Hall Blend
Are your kids having trouble getting started on their homework? Set the stage for studying with this sweet blend of Stress Away

, Bergamot, and Lavender designed to fill their workspace with a creative and calming vibe.
5 drops Bergamot essential oil
3 drops Lavender essential oil
2 drops Stress Away essential oil blend
4) Dreamland Express Blend
Somehow it seems the later they stay up, the harder it is to get them to go to bed. Get kids on the first train to dreamland by creating a consistent bedtime routine, starting by filling their room with this blend of Lavender essential oil and Cedarwood to encourage a relaxing setting.
4 drops Lavender essential oil
2 drops Cedarwood essential oil
2 drops Vetiver essential oil
2 drops Geranium essential oil
Tip: Our KidScents® SleepyIze

blend is the perfect bedtime buddy. It features Lavender, Roman Chamomile, and Tangerine essential oils in a combination created just for kids.
5) Grouch-be-Gone Blend
There isn't always a good explanation for getting the grumps. We've all been there; so brighten up your little one's day with the uplifting aroma of this citrus bouquet blend, which is accented with just a touch of mint.
3 drops Orange essential oil
2 drops Bergamot essential oil
2 drops Grapefruit essential oil
2 drops Lime essential oil
1 drop Eucalyptus or Wintergreen essential oils
6) Playtime Blend
Sometimes a little fun is all you need! Start this kid-friendly essential oil blend and set up a game, get going on a craft project, or open a book together. The whole family can enjoy this yummy, uplifting aroma.
3 drops Grapefruit essential oil
3 drops Lemon essential oil
3 drops Bergamot essential oil
1 drop Cedarwood essential oil
Looking for kid-friendly diffusers for these fun, new blends? Our KidScents

line features colorful novelty options such as the Dino Land Ultrasonic Diffuser. It also features tasty toothpaste, sweetly scented bath gel, and oil blends created just for kids!
---
Are your kids worried about closet monsters? Spray their fears away with our 3 DIY Monster Spray recipes.
Looking for even more tips on giving your kids the best day possible? Check out Dr. Mom: Help Your Kids (and Yourself) Have a Great Day!
What are your kids' favorite diffuser blends? Let us know in the comments!Citrust
via Young Living Blog http://bit.ly/2JJeGi6