Native to New Zealand and steam distilled from the manuka—or Leptospermum scoparium—tree, Manuka essential oil is a skin care pro. In fact, it's right up there with Tea Tree oil when it comes to skin-loving superstars. But there's more to those drops of Manuka than mad skin-cleansing skills.
Bothersome blemishes? Manuka's got a drop for that. Itchy scalp? Manuka's a master moisturizer. Fatigued feet? Meet Manuka, your new massage therapist. It could be coincidence that Manuka and multitasker both start with the letter M, but we think not.
Is Manuka oil good for skin?
Whether you're fighting fine lines or soothing small skin irritations, make sure Manuka essential oil stands front and center in your bathroom cabinet. It's moisturizing, calming, and cleansing. Here are some ways to benefit from this trifecta of talent.
Boost your beauty routine: Add a few drops of Manuka to your Orange Blossom Facial Wash to elevate its cleansing and moisturizing properties.

Soothe while you smooth: Combine 2 drops each of Manuka and Helichrysum to your favorite body butter for an extra dreamy scent and an extra dose of moisture.
Is Manuka oil good for hair?
The moisturizing benefits of Manuka essential oil go beyond standout skin. Combine Manuka with your shampoo bestie to replenish thirsty hair and relieve an itchy scalp.
Get a head start on hydration: Add 2 drops of Manuka to your shampoo once a week. Wash hair gently and thoroughly—spending extra time massaging your scalp—before rinsing to drench hair in moisture and fend off flakes.

Mask and you shall receive: Look no further than a DIY hair mask infused with Manuka to revive dry hair. Mix a few drops of Manuka essential oil with fractionated coconut oil and massage into scalp. Cover hair with a shower cap to keep the mask warm. Leave on for 15-30 minutes and then shampoo and condition as usual.
Can you diffuse Manuka oil?
Can you ever! Manuka pairs well with a plethora of oils, from fruity to woodsy. Our Grateful diffuser blend features Manuka, Bergamot, Northern Lights Black Spruce, and Thieves® for a scent that speaks of walks through citrus groves on warm summer days.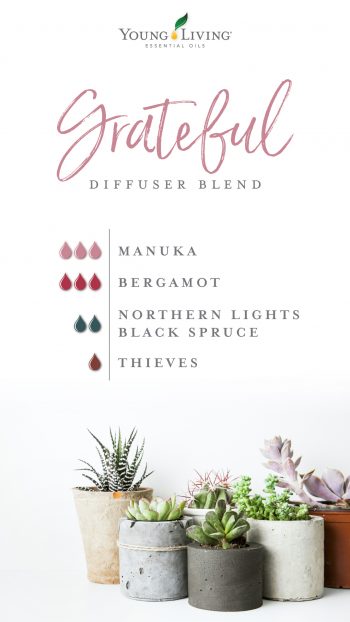 How do you use Manuka essential oil?
Tell us in the comments!
The post 4 questions about Manuka essential oil you need answered ASAP appeared first on Young Living Blog.
via Young Living Blog http://bit.ly/2I6JGe3